Shop Yamaha ATVs in the Online Store
We're proud to stock, service & provide parts for the Yamaha ATV lineup which we believe is second to none in the ATV world – period. Like the slogan says, they're "tougher than any terrain".
Why buy a Yamaha ATV from Markham Mower?
It makes the most sense to buy from Markham Mower for lots of reasons. Here's a few:
We have more knowledge.
We give better advice.
We have better selection (we'll be able to select the exact right product for your needs).
We have a skilled ATV Service Department (that's a big one!).
We have a well-stocked ATV Parts Department.
We can offer you a personalized RELATIONSHIP.
Most importantly, we'll take the time to get to know you and your equipment – meaning we'll get the job done right, on time, every time.
Just want to talk to someone right now?
Call us or schedule a visit/callback to talk to a pro.
Multipurpose ATVs
GRIZZLY (EPS, EPS SE & EPS LE)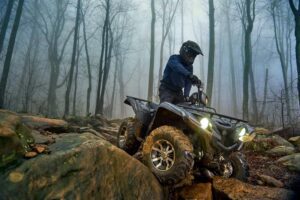 How do you improve on the ATV that became a legend? Make it better in every area. Superior handling? Check. Unmatched comfort and performance? Affirmative. The quality and reliability that Yamaha is renown for? Absolutely. Yamaha's Grizzly is and will continue to be the ATV all others measure up to. Quite simply, it's the best overall performing big bore ATV there is.
KODIAK (700, 700 EPS & 700 EPS SE)

Bigger, tougher and with class-leading performance, Kodiak 700 EPS SE takes one of the best value ATVs on the market and adds a touch of comfort and flair. A 700 class engine is accompanied by SE features like push-button On-Command drive selection, aluminum wheels and special edition graphics. Kodiak 700 SE is a rock-solid workhorse with the style and looks of a showhorse.
Pure Sport ATVs
YFZ450R SE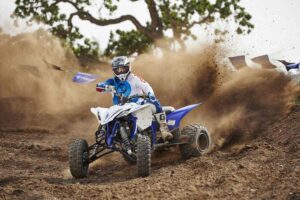 Take a look at a typical ATV race track and it will be rife with the YFZ450R. That won't change for this year, because we've stepped it up again. A host of improvements, a slipper clutch and new air induction system among them, keep the YFZ450R on the top step of the podium.
RAPTOR & RAPTOR 700R SE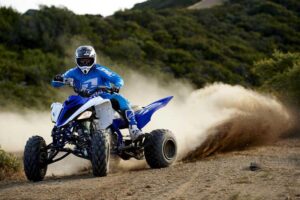 Push the throttle, feel the adrenaline, smile… Repeat. The key to the Raptor 700's longevity as the "King of the Trail" has been an ever evolving chassis that houses the most potent, torquey, big-bore engine on the sport market. There really is no substitute for the Raptor 700. If you want it all, you've got it in 3 different variations.
Beginner & Youth ATVs
RAPTOR 90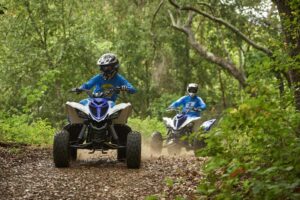 Remember the first ride you took? The freedom, and independence? How that feeling turned into a lifelong passion? Get your little one started on Yamaha's Raptor 90. Reverse and electric start with big-bike styling make the Raptor 90 easy to learn on while looking fast.
YFZ50

The entry level YFZ50 offers the fun, excitement and adventure of the great outdoors to young riders ages 6 years and up. The 49.4cc engine, automatic CVT transmission, throttle limiter and tether switch are fantastic features to ensure a safe and enjoyable start to off-road fun, while looking just like the big YFZ450R.